Case Studies l Web conference system: "Fresh Voice"


Since its release in 2003, "FRESH VOICE" has been supported by various industries including manufacturing, construction, IT, logistics and service, as well as government agencies, universities and hospitals.
With the merger of municipalities, the public services are required to deliver to residents much wider area than ever. Once the resident press the call button of a terminal in the local public office, the web contact system connects to adequate person at the center office of the city. This system allows the residents to receive the same professional services such as healthcare, taxes, or other public services while being at local offices.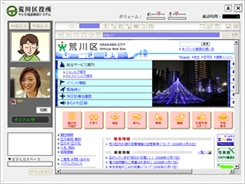 This system allows potential clients visiting the exhibition hall to contact the call center of the company to consult regarding design plannings.The sharing of CG and blueprints enables the clients to understand the plan and to input their requirements.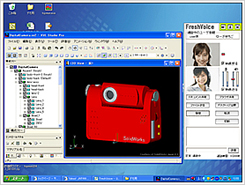 The web contact system allows the help desk staffs to capture the client's desktop, and understand what is happening at the client side without requesting explanations. This system also allows the help desk to directly operate the application in the client's computer.
With this system, the company significantly reduced the time to solve problems for each customer, and substantially increased the customer satisfaction.
Meeting with the factories overseas
The meeting among the sales, the development and the manufacturing department are held with the web conference system, which significantly reduces the communication time among departments. Due to the system, now they can response to customers' requests much quicker than ever, and leads business opportunities and growth.
The design center of the construction company connects to their remote offices working on constructions. By sharing significant information such as drawings and photos of the construction, they can make the proper and effective decision of the construction procedures in a timely manner.
The seminar for real estate dealing and financial planning is held by connecting the main seminar room and the remote seminar rooms. Owing to remote seminar system, the audience in different locations can join the seminar.

Web conference system "Fresh Voice" by Anet Co., Ltd.
Supported by more than 4,000 enterprises and government agencies in Japan.
We are looking for partners for our "Fresh Voice", please contact us if you are interested.