Products l Web conference system: "Fresh Voice"
User Friendly Interface
Since all functions related to web conference can be operated on this screen, everyone can use the system easily.
Compatible with H.264/SVC
"Fresh Voice HD" makes possible to hold a conference at 1920x1080 pixels resolution (Full HD) for the first time in the web conference software.
Superior voice quality
G.722 speech codec is adopted. By using our unique VoiceEngine , which is enhanced noise and echo canceller, "Fresh Voice" enables clear sounds. Likewise, "Latest codec that we are using" leads smooth conversations without delay or discontinuity.
Software MCU
By adopting "High performance Conference Engine", "Fresh Voice HD" makes possible to function as MCU(Multipoint Control Unit). Since "Fresh Voice" can be used as substitute for MCU devices, no need for expensive MCU devices, which cost around $10 million per device.
Users can now securely share their desktops in real-time and allow other users to read or remote-control the desktop. With this function, data such as CAD and Excel files can be checked and modified immediately.
Share documents with meeting participants in real-time. Applications are not needed to be installed on each user's computer because data is shared by image.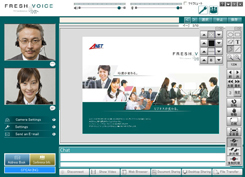 With the "Web Brower" function, homepages and HTML database data can be shared. This function can be easily used by just clicking the "Send" button in the "FRESH VOICE" browser window.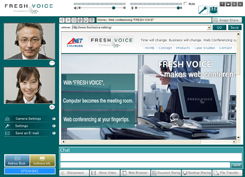 Scheduled Conferences/Invitations
Conferences can be scheduled easily. When a conference is scheduled, an e-mail will be sent automatically to all participants. The chairman of the conference can call all participants by just clicking one button. Several other conferences can also be held at the same time with different members.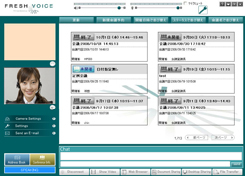 Up to 50 locations
"Mixing Mode" allow participants to speak at the same time.
With "Control Mode", participants have to wait their turns.
Both modes allow meetings to be connected up to 50 locations.
Web conference system "Fresh Voice" by Anet Co., Ltd.
Supported by more than 4,000 enterprises and government agencies in Japan.
We are looking for partners for our "Fresh Voice", please contact us if you are interested.