Concept l Web conference system: "Fresh Voice"
"FRESH VOICE" brings the improvement of productivity and corporate values.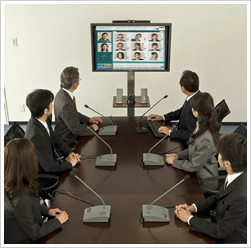 "Fresh Voice" can be connected to plasma display to hold a large-scale conference. It is a highly functional system that connects several cameras and microphones. It is suitable for linking group or corporate meetings across distances. Our technology allows high sound and video quality and creates a non-stressful web conference environment.
Rapid decisions lead the competitiveness
"FRESH VOICE" does not limit only to sounds and videos, but also can share documents and data such as PowerPoint and Excel files. While being at different locations, appropriate decisions can be made through "FRESH VOICE". By accelerating communications between employees, "FRESH VOICE" can greatly contribute to improve the whole company.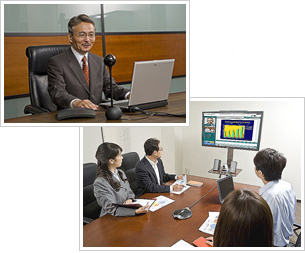 Communications between employees become closer and freer.
"FRESH VOICE" can be used by just installing software and setting up a web-camera on your computer. The communication culture can evolve into a strategic weapon of a corporation.
Web conference system "Fresh Voice" by Anet Co., Ltd.
Supported by more than 4,000 enterprises and government agencies in Japan.
We are looking for partners for our "Fresh Voice", please contact us if you are interested.