News & Topics│Web conference system : "Fresh Voice"
Jun. 19. 2014

 Making office communication efficient!

Sales staffs or administrators who are always outside office are in needs of contacting the office often, to check if any telephone from customers or other necessity.
However, they can not know who stays in the desk or how busy they are through normal telephone line and they must wait a long time before speaking and can not make smooth communications.

Anet Co.,Ltd. who has a lot of experience and market share in TV Conferencing system development and the sales, has developed a video communication tool, to be called "Glance at office" in order to improve such situations, with using their know how on TV Conferencing system development.

With the "Glance at Office" that consists of fixed-point camera and microphone set in the office, the members out of office can look at the video image and the sound of the office through smartphone or tablet. Thus they can check the situation in the office and call an available collegue for chat or voice communication.

The call from outside is shown by indicator and message will be displayed in the screen set in the office. The display shows the photo of message sender, the name, sent text data and photos so that all member in the office can notice the content.

The structure of "Glance at Office" consists of the ASP application, PC to display the view, fixed point camera, microphone and application for smartphone or tablet.The system does not require any hardware devices.
User can select indicator from LED sign or warming light, and the number of fixed point cameras and microphone is also decided according to the size of office.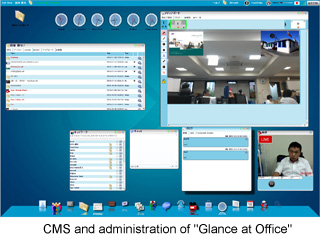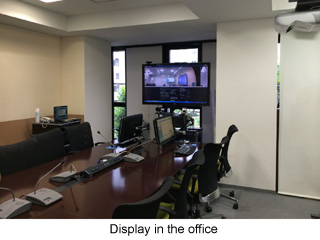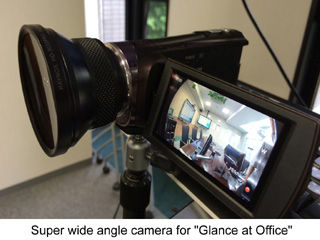 Web conference system "Fresh Voice" by Anet Co., Ltd.
Supported by more than 3,000 enterprises and government agencies in Japan.
We are looking for partners for our "Fresh Voice", please contact us if you are interested.